Go to Baptism Index Go to Marriage Index Go to Communion Index
Go Back to Main Database Index
St. Leonardís of Port Maurice - Roman Catholic Church
Bushwick, Brooklyn, NY
This database contains an index of names within the records of St. Leonard's of Port Maurice, a Roman Catholic Church formerly located at 199 Jefferson Street which is at the corner of Wilson Avenue and Jefferson Street, Bushwick, Brooklyn, NY. This German parish church was founded in 1871 and the parishioners were primarily German immigrants. These early records are perhaps the only place you will find the town of origin for your ancestors. St. Leonardís closed its doors in 1978 and the church was demolished in 2001.
The records in this database are as follows:

Baptism Records - (27, 139) - 1872-1978
Marriage Records - (5,763) - 1872-1978
First Communion Records - (4,185) - 1920-1978
To aid your search you can replace part of the surname with an % such as Sch% and the search will return all names starting with Sch. Similarly, you can use a _ to replace a single letter if you don't know the exact spelling.
All requests for records of St. Leonardís RC Church must be in writing. Send your request along with a self-addressed, stamped envelope to the following address:
St Joseph Patron of the Universal Church
185 Suydam Street
Brooklyn, NY 11221
When writing, please give as much information as possible along with the book number, page and entry number, which can be found within this database. Keep in mind that there may be more information contained within the church book record that youíll receive on the certificate. It is suggest that you ask for the entire record when making your request for a certificate. It is also suggested that you include a donation along with your request.
As part of our Heritage Preservation Program, members of the German Genealogy Group have spent many hours computerizing an index to the various church records on this web site. We are grateful to the pastors of the churches for allowing us to make these indexes available to genealogists all over the world.
This project was coordinated by Ms. Elizabeth Acker Lovaglio. If you would like to contribute time to other current Heritage Preservation projects, please contact Ms. Lovaglio.
The German Genealogy Group wishes to thank the following for their
help and participation in the St. Leonardís project:
Volunteers
Robert Boeckle * Lucille Blum * Robert Blum * Ruth Cipko * Lynn DeTrano * Bob Dockweiler * Don Eckerle * Dave Graff * Richard Haberstroh * Antoinette Jackson Herb Lessman * Elizabeth Lovaglio * Audrey McKay * Joan Koster Morales * Kathryne Natale * Kathy Nolan * Dale Realander * Tom Risinger * Jean Schmidt * Dottie Schilling Bob Tallman * Mark Waldron * Joe Walter * Bob Weingarten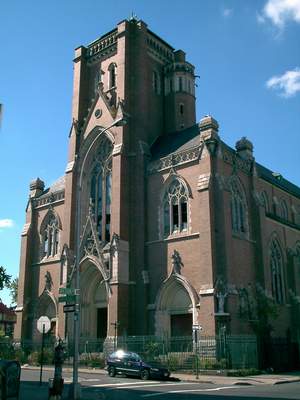 St. Leonard's, shortly before it was demolished in 2001.